Thursday 13 November 2014, 1.26pm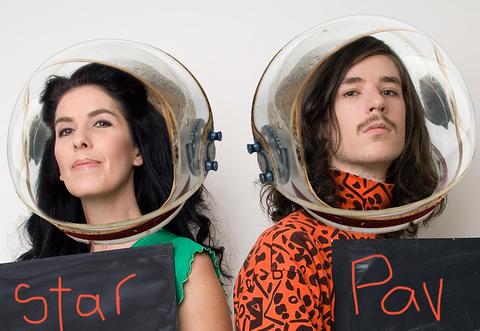 What do ufologists, astronomers, sci-fi buffs, cosmologists, werewolves, moonlight dancers, astrologers and Sophia Brous have in common? They're all descending on MPavilion this Monday for The Telepathy Project's dusk-'til-dawn event Star Pavilion.
As part of our One Night Stand series of interventions, curated by Natalie King, Sean Peoples and Veronica Kent of The Telepathy Project will be presenting a series of mind-bending aural and participatory events this week—in the pavilion, the gardens and our dreams.
Star Pavilion
Co-presented by Melbourne Music Week, the week's wanderings and recordings will begin with this all-night event on Monday 17 November, starting at 8pm. Among ufology and astrophysics lectures, a swing dancing set, a howling choir, a Star Wars screening and complimentary servings of fragrant tea and popcorn, don't miss the premiere performance of Dream Triptych—Sophia Brous's three-part musical meditation performed with harpist Marshall McGuire and electronics-whizz Joel Stern. Following on from Brous's participation in the Barbican Centre's In Dreams: David Lynch Revisited, Dream Triptych is based on night visions experienced and documented by notable 20th-century astronomers. As always, entry is free. And you can pop in any time throughout the night. Find out more and check out the complete list of Star Pavilion happenings here.
Mind Meet with The Telepathy Project 
On Wednesday morning The Telepathy Project will be hosting a bright and early MMeets event—testing telepathy and dreams as alternative forms of communication, collaboration and being. Before you head to work to spend your day emailing, texting, meeting and tweeting, why not join us at MPavilion to explore some other forms of transmission? It's free to attend but we're not accepting psychic bookings—head over here to RSVP.
Star Pavilion soundscape
The One Night Stand / Melbourne Music Week cross pollination will continue from Thursday to Sunday this week, when the recordings from Sophia Brous's Monday night Dream Triptych performances become MPavilion's daily soundscape. Visit us any time for a coffee and a mind-widening sonic experience.