Tuesday 4 November 2014, 5.25pm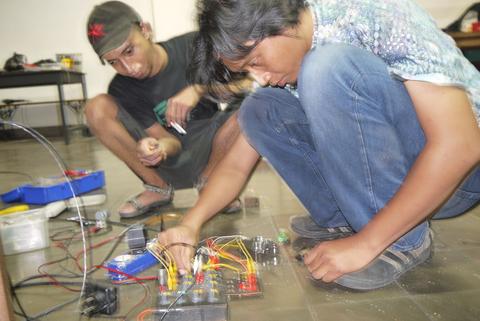 Since Saturday, NGV Studio has been home to the first Australian iteration of The Instrument Builders Project. Curated by Kristi Monfries and Joel Stern, it's a collaboration that invites artists to conceptualise, build, exhibit and perform new sonic artworks together over the course of a month spent in a shared workshop.   

Meanwhile, as part of the One Night Stand program at MPavilion, Slow Art Collective are in the process of creating an evolving installation, 'Leaf House Music'. Taking shape every day this week—and incorporating plant debris from the surrounding gardens—it's a growing, organic structure that's literally wired for sound. 

To cap off a week of new sounds, we're excited to announce a collaboration as part of 'Leaf House Furniture Music' at MPavilion this Sunday. Slow Art Collective's Dylan Martorell will perform with visiting Instrument Builders Project artists Wukir Suryadi, Lintang Radittya and Andreas Siagian (Yogyakarta, Indonesia)—alongside local guests Tim Coster, Snawklor and Dry Mouth.

Expect synthesiser leaves, battery-powered sound systems, graphic scores based on the structures of plants, and an afternoon of audio experimentation. The performance is free to attend, and everyone's invited to add finishing touches to Slow Art Collective's installation on the day. Find all the details here.